Journey Into Khöömii
by Jean-François CASTELL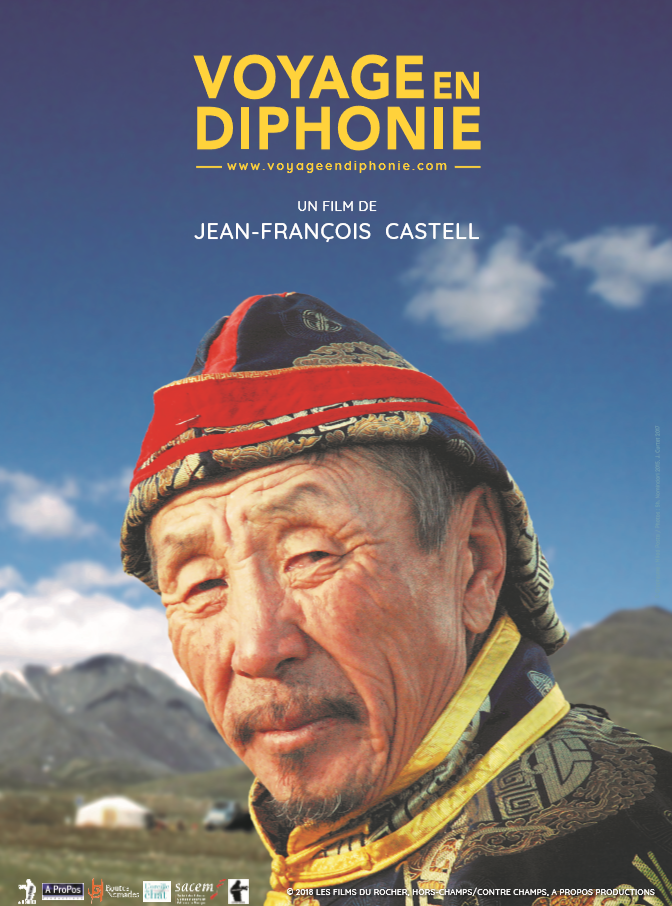 After Masters of Overtone Singing, the new documentary film by Jean-François Castell
Release May 2018 – 70′
2021 – Best international long format film – NIFFFI, INDIA
2019 – « Coup de cœur » , Académie Charles Cros
2018 – Shortlisted Prix SACEM for Best Musical Documentary
Production : Les Films du Rocher, Hors/Champs-Contre/Champs, A ProPos productions
Images : Jean-François CASTELL
Sound : Jean-François CASTELL et Johanni CURTET
Musics : "Anthology of Mongolian Khöömii" tour, V. Batzorig, A. Erdenekhüü, D. Batsükh…
—
Coproduction : Routes Nomades, L'Oreille du Chat, crowdfunding (169 contributors)
With the support of SACEM © 2018
Available in French / English and Mongolian versions to come in June / lesfilmsdurocher@gmail.com
voyageendiphonie.com
Follow us on Facebook: https://fr-fr.facebook.com/Voyage-en-Diphonie/
Film trailer
Synopsis
Since 2010, the Mongolian Traditional Art of Khöömii (throat singing) has been inscribed on the Representative List of the Intangible Cultural Heritage of Humanity by UNESCO, and the research of Johanni Curtet and his spouse, Nomindari Shagdarsüren, as well as the recordings published by their association, Routes Nomades, have contributed to its nomination dossier.
Following this, Johanni and Nomindari have spent six years preparing a double-disc, An Anthology of Mongolian Khöömii, to become a key work of reference on khöömii.
In 2016, in conjunction with the release of the anthology, they organized a unique tour with 12 khöömii performers and musicians. Male and female masters, young and old, with diverse backgrounds and from different provinces of Mongolia spent two months together on the most beautiful world music stages in France and Switzerland. Based on the voluntary participation of these khöömii representatives, Johanni used their exclusive presence to conduct a research with C.N.R.S., Gipsa-lab and C.H.U. of Grenoble. The first-ever experience…
Journey In Diphonia traces these intertwined stories: the foundations of an ethnomusicological, ethical and fair approach; the history of the tour from the inside; the scientific investigations; the mystery of khöömii, its deep relation to nature and its transmission; the restitution of the anthology in Mongolia during the summer of 2017 to the khöömii performers and to the families of deceased musicians present on the recordings; and the personal adventure of Johanni and Nomindari with the incredible individuals who enliven and advance the art of khöömii today.
This film is dedicated to Papizan Badar, a Tuvan khöömii master from Mongolia, who journeyed for the first time to perform in the West, achieving one of his life dreams.
Masters of Overtone Singing